Please ignore the mess in my kitchen. I was up all night baking this thing.
Every year, I bake a gingerbread house for a little place called the
Children's Center for the Visually Impaired
. They throw this competition in which local pastry chefs compete in building gingerbread structures in order to raise money for the center. This is one of their signature fundraisers and is a whole heck of a lot of fun to participate in. All of the houses are put up on display and locals can come in, vote for their favorites, and even win these structures in a silent auction for display in their homes, offices, country clubs, and more! Every penny goes to benefit the center. Let me tell you a little bit about it...
The CCVI is one out of eight schools in the United States that aids young children that are either blind or visually impaired. I've been to the school a few times, and they have caring teachers that are there, patiently helping toddlers and young children navigate the world well enough to attend conventional schools in some cases. They offer personalized tutelage, they have parent groups to get together with others, and they're all around good people. The thing I love the best about Kansas City is that there seems to be no shortage of folks that want to help other folks. The city isn't exactly altruistic, but it sure is a place that humanitarians can have their choice of places to volunteer at and make a positive impact on the world.
Let's get onto sorghum, though, shall we? After all, it's in the title of the blog...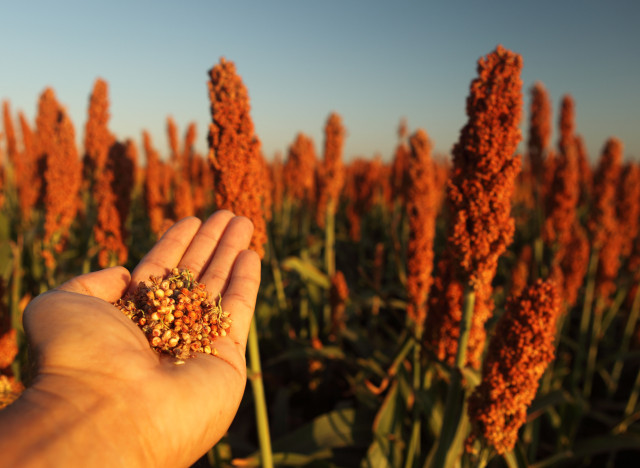 This is sorghum. It's a cereal grain that grows tall, like corn, and is native to Africa. Traditionally, much like corn, it's grown as livestock feed, but if you're from the American south, you know all about sorghum syrup and its many uses. Sorghum was - and still is - a cheaper alternative to honey and molasses. The syrup made from the grain is bountiful, and the plant itself is drought resistant, which makes it far more sustainable a crop than sugar cane or corn. The grains can be turned into a sweet and sticky syrup, but also popped like popcorn, cooked like a risotto, and has found its way into the gluten-free market to make as a grain bowl. Ground into flour, with the help of xantham gum, you can make yourself a tasty bread. If you're not trying sorghum, you're missing out.
Molasses, while tasty and recognizable, is a byproduct of cane sugar. I don't need to tell you that cane sugar isn't exactly the most-sustainable thing in the world. By making switches to coconut sugar, beet sugar, and sorghum, you'd be surprised how much environmental impact it would have. I don't have all day to tell you about the corruption in the sugar business, but I can tell you this:
sugarcane is one of the thirstiest crops in the world, and it's a much quicker and easier solution to make sustainable switches than to look around for fair trade, sustainable cane sugar
. Furthermore, cane sugar has lead to significant losses for the environment, especially in the realm of biodiversity. This, along with many other reasons, is one you should take into consideration before making sugar cookies with white sugar versus coconut sugar, or gingerbread cookies with molasses versus sorghum.
This gingerbread house, like many others, was made with this adapted recipe for gingerbread. I love this recipe because it's very structurally strong, is easy to roll thin while maintaining its integrity, and is still tasty enough to snack on the scraps. It's strong because it has a low amount of fat and no eggs, so therefore will last quite a long time. Best of all, the sorghum makes the dough pliable so you can easily work with it. Shall we?
Sorghum Gingerbread House Dough
yields enough to make one small house - double for a medium house!
112 g coconut sugar
230 g sorghum syrup (I like the dark, but you can use light if you like)
90 g coconut oil, vegetable shortening, or vegan butter substitute
1 Tbsp ground cinnamon
1 1/2 tsp ground cardamom
1 tsp ground ginger
1/2 tsp ground cloves
1/2 tsp ground allspice
1 tsp vanilla extract or paste

Use paste, if you can! The smell will be much nicer in the end

350 g AP flour, plus more for dusting
Sift together the flour and spices, then rub in the fat with your fingers. Stir in the remaining ingredients by hand, with a wooden spoon, gently, until everything is homogeneous and well-incorporated. You may use this immediately, of course, but it can set for up to 24 hours at room temperature, wrapped up in plastic wrap, divided in two equal discs. You'll notice that I've omitted any leavening agent - this is because when things like baking powder or baking soda are present in a cookie recipe, they make things rise and they make things soft. We don't want a soft cookie, we want a strong one, nor do we want one that will rise and will change shape on us when baked.
Now, let's talk about your design. You can print out an easy template online with printer paper, or you can sketch one up on cardboard. You need to be pretty good at math and have some basic engineering skills to draw one up on your own. Or, you know, you can cheat and have your husband (who's good at it because he's an architect, not because he's a man) draw up a design for you.
This house is based off of pan-Lithuanian/Belarusian architecture, taking inspiration from folksy traditional homes. I rolled out the pieces of dough quite thin, about 3/16", all on parchment paper so it was easy to trace and transfer to a sheet pan. I suggest cutting out the shapes with the raw dough first before baking at 350 for 15 minutes. When the timer goes off, take out the cookies and work quickly, for heaven's sake, at this next bit.
Please label your pieces. This will save you so much heartache and headache in the long run.
Take your template and lay it gently over your cookie. Using a pizza wheel or a small, sharp knife, trim away the edges that have bloomed out and spread during the baking process. This will give you a nice sharp edge! Bake again for another 10 minutes before removing from the oven. Take another sheet pan and lay it very gently atop your baked cookie, only allowing the weight of the pan to flatten out the cookie's surface. Remove the pan and re-trim the cookie if necessary to your shape. Allow to cool completely before you start building with it!
Always mark with pencil, not pen! You can also use edible markers, if you plan to eat it later.
I highly suggest that you use plywood as your base. It's strong, cheap, and readily available at most hardware stores. My gingerbread base was 2' x 2', which was large enough for my house as well as a few added extras for decoration. Consider this, though:
Don't make a gingerbread house that's too big to display in your own home. I suggest that you find a place in your home that you'd like to have your house displayed, measure out the space, and design around that. This house can fit nicely on a side table or atop a chest of drawers. If you'd like a smaller house that can fit on your dining room table, design accordingly.
Slow and steady wins the race. This house took me about 12 hours total.
You're also going to want to have plenty of straight and heavy things to set your walls against. I used soup cans, vases, and bottles of wine to hold my cookie pieces in place while the royal icing dries. I strongly suggest working in batches on this, and building slowly. Don't rush! Rome wasn't built in a day, nor was it built using royal icing.
Royal Icing for Decorations
1 egg white from a large egg
Powdered sugar, A/N
You're going to want an icing that's thin enough to pipe, but thick enough to hold its shape. I suggest using a piping bag without a tip in it for the gluing together, and then use a small, fine round tip to decorate.
You can start decorations on the pieces you know you'll be needing them on, such as the trim on the front or the side windows. You can also use other tips to create shell designs and comb designs. You can really let your imagination go wild on this! Use plenty of candy, of course, if that's your game. You can also use and modify your own cookie recipes to create design elements for your house. On my house, you'll see:
Ready for voting and judging!
Red velvet shortbread cookies (the tiles on the roof and shutters on the windows)
Sugar glass (the windows and the lake)
Flood-consistency royal icing (the melting snow on the roof)
Slivered almonds, tossed in edible gold dust (shimmery rocks and tiles around the pond)
White chocolate and pistachio discs (for stepping stones and piped in long pieces for logs)
Stiff-consistency royal icing (the icicles, window trim, and more)
Homemade marshmallow (the snowy ground)
Gum drops and candy canes (for fun!)
You have free range on this one, so use this recipe and these techniques to build the gingerbread house of your dreams. Some planning should go into this, but if you wing it, just remember: it's only cookies, it'll be okay.
Can you eat this? Sure. Do you want to? I don't know...do you? After you spent all of this time on it?
Need some inspiration on the gingerbread house of your dreams? Check out
Pinterest
and
Instagram
! My skills aren't anywhere near the kind that these trained pastry chefs have, but I still have fun doing them. I highly suggest you have some fun doing them yourself with your kids, your sisters and brothers, your parents, your friends...anyone in your life that you'd like to see have a little fun!
I hope you've enjoyed. If you live in the Kansas City area and would like to see my gingerbread house, please head to Webster House in the Crossroads, at 1644 Wyandotte Street, and snap a selfie with it! You can drop a dollar in the "People's Choice" jar to vote for me, or make a bid on it yourself. Or hey! Make a bid on one of the other houses that are there, if you like those better! I assure you, you won't be disappointed in what you see. My favorite part of this 'competition' is seeing the different interpretations that each chef has on what they think a gingerbread structure should be.

Happy baking and happy eating!