Here's a disclaimer: I am not an authority on Texas-style chili, or any kind of chili, for that matter. The only way in which I
might
be considered an authority on chili is because I'm from the Southwest and we eat a
lot
of it there. In Arizona, we have chili as a staple meal in just about every household. The great American chili debate can be summed up with
beans vs no beans
. It's a highly regional dish that's taken over our country, and I am
all
for the Arizona-style chili with the beans.
I like pinto beans in my chili, mostly because that's what I've grown up with, but I've seen it done with white beans, kidney beans, and black beans. We do ground beef as our main protein instead of large chunks of chuck. We also tend to do our chili on the spicy, tangy side instead of the sweet-hot side that I've noticed in most Texas-style chilis. (Seriously, though, if someone who has
actual
knowledge in this endeavor wants to fill me in in the comments section, please do so.) Here's the thing, though... B likes Texas-style chili, and he has certain G.I. issues that keep him from eating certain things, and *gasp* beans are one of them.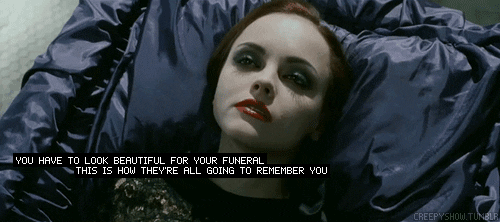 RIP me. My funeral will be held this Thursday at 6 pm.
So, of course, when B announced that there was a chili cook-off at his work, I was intrigued. Since he can't do beans, he was going to make a Texas-style chili. When I realized that this meant he was going to be cooking in my kitchen without me in the house while I was gone to have dinner with a friend, I told him to just buy the ingredients for me and that I'd make it myself. He told me that I didn't have to, of course, but I was insistent. Nobody cooks in my kitchen; it's my sacred space.
Three-Alarm Texas-Style Chili
yields enough for 6 people, or, like, 4
really hungry
people
1 lb beef chuck, 1/2" cubes
1 lb bacon
1 white onion
2 bell peppers
5 cayenetta chili peppers, dried
6 cloves of garlic
1 Tbsp dark chili powder
1 sprig fresh oregano
2 tsp cayenne pepper
1 pinch red pepper flakes
3 cans stewed tomatoes
1 small can smoked adobo chilies
Scallions & cheddar cheese to serve
Chop the bell peppers and onions into a 1/2" dice and set aside. Grind the garlic, cayenetta peppers, the oregano, and a pinch each of salt and pepper together with mortar and pestle. If you don't have one, chop up the garlic quite fine, pop it into a bowl and mash it together with the other ingredients with the back of a wooden spoon. You can also use a spice grinder to combine this, or a coffee grinder - so long as it creates a sort of chunky paste. Meanwhile, heat your oven to 400 degrees F.

Turn your flame on to high, and grab your favorite dutch oven, or thick-bottomed stew kettle. Chop the bacon into 1/2" chunks and cook. Reduce the flame to a medium heat, and cook until crisp and brown. Drain off the fat and reserve about 2 Tbsp of it. Remove the bacon from the pan and set aside. Add in the beef carefully to not splash hot bacon fat everywhere.

Let the meat brown and add in your dry spices. Do not inhale the smoke unless you feel like hacking your face off. Once everything is sort of mixed in together, add the chili-garlic paste you made earlier, the chopped vegetables, and the adobo chilies. Stir well and allow to cook for about 5 minutes. Add in the tomatoes and bring to a boil.
Once your chili is boiling, turn off the heat, give it a good stir, correct the seasoning, and then put a lid on your pot. Pop your pot in the oven and let bake for about an hour and a half. You're simulating a super-hot campfire while trapping all of that tasty steam on the inside, which will make your beef
crazy
tender.
After your 90 minutes is up, turn off your oven and evacuate your pot. Open the lid, give it all a good stir, and pop the lid back on for another 10 minutes before serving. You can also let cool completely and serve it the next day(chili always tastes better the next day), but who wants to do that, really? Do yourself a favor, though, and have either water or milk nearby. It's decently hot.
Thanks so much - this blog was my actual first request in a long time. Thank
VanessaBiglerArt
for that! Happy cooking and happy eating!